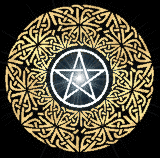 Art Credit: Pentacle by Robin Wood Used with permission.
For the past 3 years, I have been contributing essays to The Witches Voice. This wonderful site is a clearinghouse for the Pagan and Wiccan community worldwide, and is worth a look. Each month, they solicit Pagan writers to submit an essay on a subject that is provided. I have assembled here a collection of the essays I have submitted there. Enjoy!

Animal and Digital Familiars of the 21st Century
The Care and Treatment of "The Instant Witch"
Taking the Sexual Road Less Traveled
Crossing Borders: Combining Paganism and Gnostic Christianity
Psychic Development in Today's Craft
Reconciling Population and Stewardship
The Myth of 'Perfect Love and Perfect Trust'

Sign my Guestbook!
[ Home ] [ Garden ] [ Temple ] [ Indigo Files ] [ Library ] [ What's New? ] [ September Sorrow ]